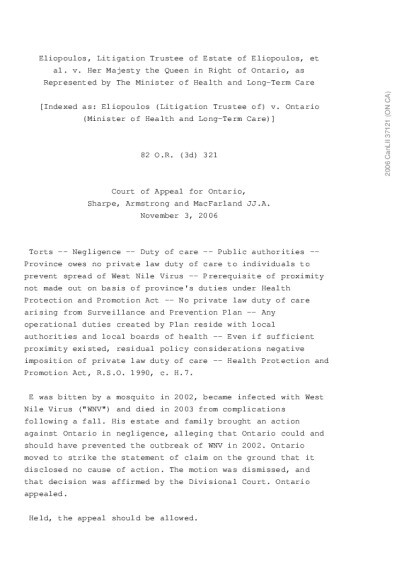 Description
This case law summary was developed as part of the Disaster Law Database (DISLAW) project and is not an official record of the case.
Case Name
Eliopoulos Estate v Ontario (Minister of Health and Long-Term Care)
Case Reference
2006 CanLII 37121 (ON CA) (C44577)
Name of Court
Court of Appeal for Ontario
Key Facts
George Eliopoulos was bitten by a mosquito in Mississauga in 2002 and became infected with the West Nile Virus.
Decision and Reasoning
The Court of Appeal determined that imposing a duty of care on the government would impose an unjustified and unwelcome burden on the province, interfering with public-health decision-making.


Outcome
While the Ontario government had a responsibility to the general public, the Court of Appeal ruled that there was an insufficient closeness between the public authority and Mr. Eliopoulos to create a duty of care. As a result, the negligence claim was dismissed.