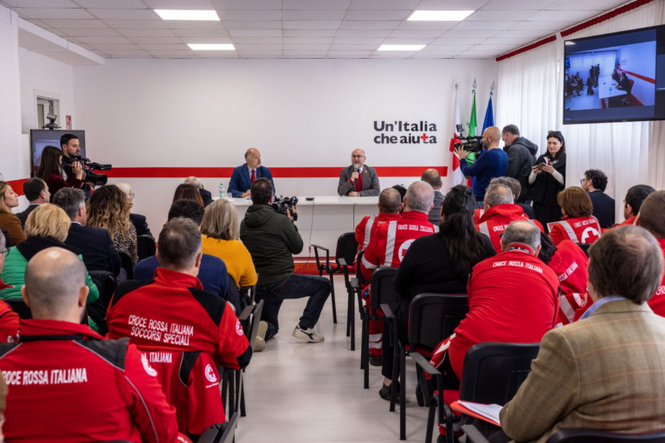 Our new report examines the legal framework for recovery and reconstruction following earthquakes in Italy and looks at how learnings can inform and strengthen legislation for disaster recovery, to help people affected by disasters recover and rebuild their lives, in Italy and around the world.
The report, Post-disaster recovery and reconstruction: The Italian regulatory model and the 2016-2017 earthquake in Central Italy, was launched at the national headquarters of the Italian Red Cross in Rome on 11 April 2023.
Tommaso Natoli, IFRC Disaster Law Focal Point for Europe and report author, says the earthquakes in 2016 and 2017 represent a good case study for research into recovery and reconstruction.
"Seismic events represent Italy's main source of risk and have historically influenced the development of the Italian post-disaster recovery and reconstruction model. These earthquakes are the most recent major disaster in Italy but are also 'old' enough to evaluate how recovery and reconstruction worked."
The report is based on extensive research and consultations with institutional stakeholders, including experts from the Italian Red Cross, who helped identify the critical factors in the recovery and reconstruction processes as well as to develop related recommendations on normative advancements to address them.
Critical factors include the need to ensure essential services in small and very small municipalities, to favour a functional transition from recovery to reconstruction, to standardize and simplify existing primary and secondary norms, to regulate special and derogatory powers, to reduce hindering factors in complex and multilevel governance systems, as well as 'signature phobia' and administrative reticence, and to steer private behaviours to avoid waste, mitigate future risks and ensure long-term sustainability.
Recommendations from the report include the need for legal frameworks for recovery and reconstruction to take an all-of-society approach, regulate special and derogatory powers, streamline governance systems to ensure fast and efficient action, and clearly outline roles and responsibilities.
The report launch was attended by Rosario Valastro, President of the Italian Red Cross, Fabrizio Curcio, Head of the Italian Civil Protection Department, Guido Castelli, Senator and Commissioner for the post-earthquake reconstruction of Central Italy, Giulio Bartolini, Full Professor of International Law at Roma Tre University, Marco Coletti, Head of the Central Italy Earthquake Project unit of the Italian Red Cross.
Rosario Valastro, Italian Red Cross President, says he hopes this study based on the Italian experience, will inform legislative advancements in other countries, enabling a quick and effective return to normality for those people affected by disasters in every part of the world.
The report is part of a research project on law and disaster recovery and reconstruction conducted by IFRC Disaster Law and based on a previous literature review on the topic. The project aims to identify and collect existing regulatory models to inform the development of a set of evidence-based recommendations for improving domestic legislation in the sector.