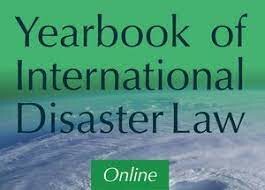 IFRC Disaster Law is pleased to support the latest issue of the Yearbook of International Disaster Law (YIDL) on regionalisation and localisation of international disaster law.
Volume 4, Issue 1 has contributions from experts from the legal, humanitarian, migration, and academic sectors from around the world including IFRC Disaster Law advisers.
IFRC Disaster Law's Africa team Jeanique Serradinho, Stella Ngugi and Reece Da Costa co-wrote Legal Preparedness for International Disaster Assistance in the SADC Region, An Analysis of the Incorporation of International Disaster Response Laws, Rules and Principles in Domestic Disaster Risk Management Legal and Policy Frameworks.
International Disaster Law at the Domestic Level: Honduras was authored by Sophie Teyssier, IFRC Disaster Law's Legal Advocacy and Auxiliary Role Coordinator for the Americas.
Tommaso Natoli, IFRC Disaster Law's Europe Focal Point and head of  YIDL's editorial committee, contributed across the volume, As the Island Choirs Gather' Tracing a Regional Approach to Disaster and Climate Resilience in Pacific Island Countries, and  an interview with  Adelina Kamal, former Executive Director of the ASEAN Coordinating Centre for Humanitarian Assistance on
Thanks to funding from IFRC Disaster Law supporter, the German Government, the issue on is available as open access online. 
Click here for access to the full version of Volume 4, Issue 1.