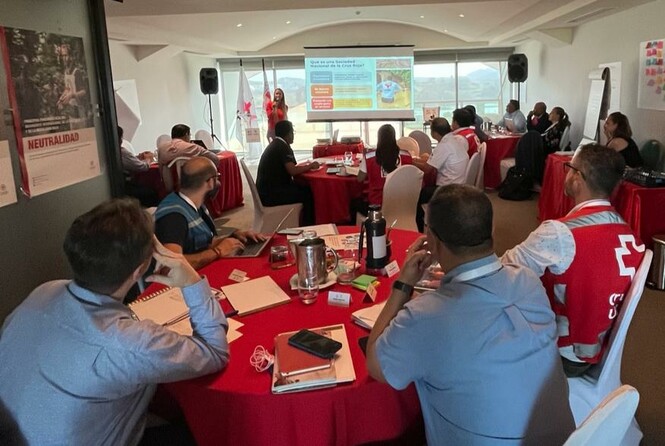 IFRC Disaster Law joined National Red Cross Societies from across the Americas at the Movement Induction Course, in Panama last month.
The course strengthened the capacity of National Society leaders to improve their response to the humanitarian needs in their respective countries. It was organized by the International Federation of Red Cross and Red Crescent Societies and the International Committee of the Red Cross.
In Panama, 23 participants, including presidents and general directors of Red Cross National Societies from North America, Central America, Latin Caribbean, the Andean Community and the Southern Cone, joined the course.
IFRC's Disaster Law America's team co-led the Auxiliary Role and Humanitarian Diplomacy session alongside their ICRC colleagues.
The session covered IFRC's policy on humanitarian diplomacy, auxiliary role concepts and how it can be applied and examples of how National Society leaders take action on humanitarian issues at the national, regional, and global levels.
Sophie Teyssier, Legal Advocacy and Auxiliary Role Coordinator for the Americas says it is important for National Society leaders to have an in-depth understanding of the auxiliary role, due to how it enables National Societies to engage and contribute to national humanitarian preparedness and response.  
To find out more about the auxiliary role, click here.