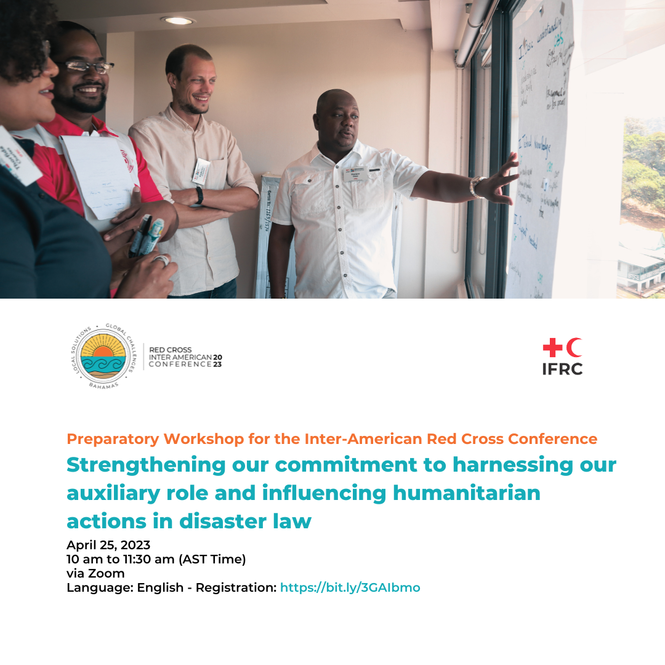 Strengthening our commitment to harnessing our auxiliary role and influencing humanitarian actions in disaster law

From June 6-8, 2023, 34 National Societies from across the Americas will meet in Nassau Bahamas for the XXII Red Cross Inter-American Conference (IAC), where National Societies will agree on commitments that will guide their work for the next four years.
In preparation for the IAC, it is critical that the inputs of National Societies are documented and incorporated to ensure that the commitments made through the Nassau Accord, accurately reflect the vision of National Societies. In that regard, the objective of this workshop will be to:
i) Provide National Societies with a brief 'state-of-play' of disaster law and the status of the auxiliary role in the Caribbean, which will provide the context for the upcoming IAC plenary sessions, and will allow National Societies to define a vision for their work moving forward
ii) Gather feedback and recommendations from National Societies on the language to be included in the Nassau Accord.
This workshop will be held on April 25, 2023, via Zoom from 10 am to 11:30 am (AST) for approximately 90 minutes. 
For questions or more information, please contact:
Stacy Cummings Legislative Advocacy Adviser Dutch and English-speaking Caribbean, IFRC: stacy.cummings@ifrc.org 
Jessie Jordan Disaster Law Officer Dutch and English-speaking Caribbean, IFRC Jessie.jordan@ifrc.org