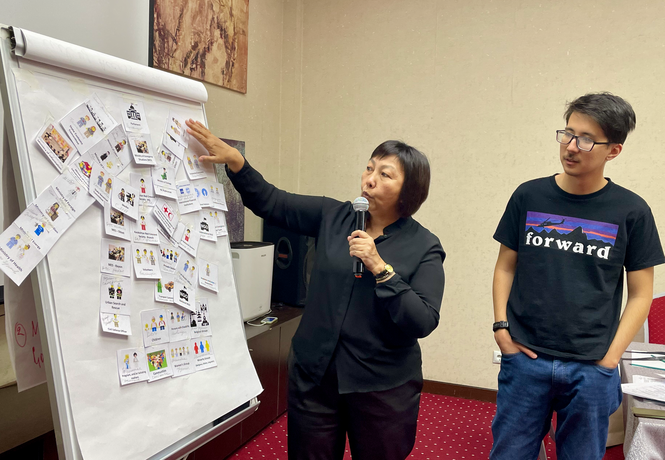 Central Asia is a region that faces many unique challenges, including disasters. Ensuring that the region is prepared for, ready to respond to, and able to recover from disasters is critical to save lives and keep communities safe.
Over the past year, IFRC Disaster Law has been working with National Red Crescent Societies in Central Asia to increase understanding of disaster laws and share best practices of legal preparedness.
IFRC Disaster Law delegate for Central Asia, Pauline Caspellan, said the trainings in Kyrgyzstan, Tajikistan and Kazakhstan have been learning opportunities that have built local capacity on disaster law in the region as well as strengthened relationships with governments and partner organisations.
"These workshops are the first of their kind here. They helped Red Crescent humanitarians and their government counterparts in Central Asia reach a common understanding of climate-smart disaster law principles and best practices, which encourages peer-to-peer discussions on common and critical issues in this area of law that need to be addressed in this region.
"Together, we discussed the importance of coherence between laws and policies that deal with disasters and climate change, the importance of strong legal frameworks for the National Society's auxiliary role in disasters, including public health emergencies, and clear triggers for when international humanitarian assistance must be requested or accepted by states. As a landlocked region, there was also a lot of interest in understanding best practices on cross-border disaster assistance.
"In disaster response, there are often multiple responders and it is important that clear roles and responsibilities are set out. Engagement between National Societies and governments is critical to make sure that disaster law is on the agenda and comprehensive laws and policies for disaster risk management - from anticipatory action and early warning to disaster response and recovery - are developed," Ms Caspellan said.
Communities in Central Asia are increasingly impacted by disasters, such as mudflows, drought, cold waves and heatwaves due to climate change. These disasters are also disproportionately affecting already vulnerable and marginalised people.
Ms Caspellan said it is important to increase understanding of disaster law to ensure that laws are reviewed, updated and developed to minimise loss of life and livelihoods from disasters.
"As weather and climate-related disasters increase, we must take urgent action to implement climate-smart disaster laws at local, national and regional levels. It is important to understand how laws, policies and plans play a role in reducing the impact of climate change on people and the environment," Ms Caspellan said.
"For these laws to reach the people most affected by climate-related disasters, those most affected must be included in the development and implementation of these laws through meaningful consultation and engagement."
The training also provided the participants the opportunity to learn about strategies they can use to advocate for better disaster laws.
As an auxiliary to government, National Red Crescent Societies provide assistance before, during and after disasters.
In Central Asia, National Red Crescent Societies currently provide food, warm blankets and kits with other needed items to households that are exposed to extreme cold weather or have lost heating during this winter season.
They are also the first humanitarian responders to reach communities in complex emergencies, such as the recent border conflict between Kyrgyzstan and Tajikistan in late 2022. This makes National Red Crescent Societies reliable partners to government and non-government actors in conducting humanitarian needs assessment on the ground.
Find out more about our work in Central Asia here.