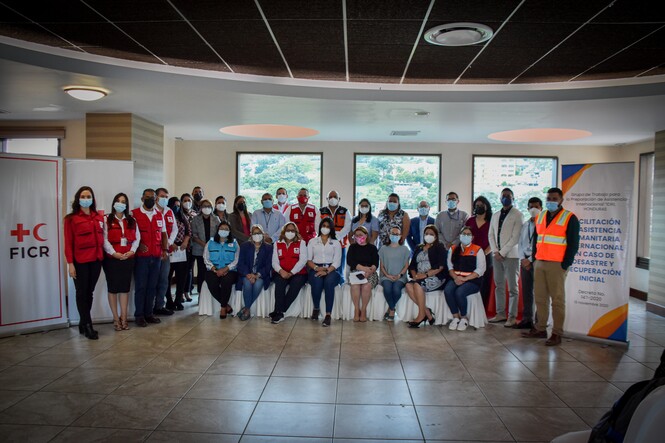 Honduras is a step closer to becoming the first country in Central America to have implemented an international disaster response law (IDRL Law) Regulations.
Honduran Red Cross bought representatives from civil society and government together in Tegucigalpa, Honduras, on 3 June, as part of a workshop to further the implementation of Honduras' Law for the Facilitation of International Humanitarian Assistance in the Event of Disaster and Initial Recovery, also known as the IDRL Law.
IDRL Laws ensure strong and regulated facilitation of international disaster assistance, helping humanitarian aid to arrive efficiently and regulating quality control and coordination.
Honduras' IDRL Law was approved in November 2020, and since then an extensive review and consultation process has been underway to develop the law's framework.
IFRC Disaster Law's Americas Officer Rebeca Muñoz says after a law is passed work is required to develop its regulations – which put simply, means to operationalise the law.
"The work to create the regulations for the new IDRL law over the past 17 months is an incredibly important part of the legal process, as we work with a wide variety of stakeholders from community to government to develop what the law will look like in practice.
"This workshop is a space for us to review, discuss, and make any changes before the law is finalised."
IFRC Disaster Law has been supporting the Government of Honduras to develop the IDRL law since 2017. 
As part of the development of the law an IDRL group was established, composed of key government representatives from the Ministries of Disaster Risk Management, Migration, Foreign Affairs, and Customs, among others, as well as the Honduran Red Cross and IFRC. 
The IDRL Group is integral to the IDRL Law's progression, and it is helping to train Red Cross staff and volunteers and government officials in disaster law.
At the workshop, Honduran Red Cross developed a series of videos to highlight the importance of this new law.
Video series (videos currently available in Spanish only):
Find out more about the workshop in this video. 
Find out more about the development of the law from Nelson Aly, Central America Cluster Delegation, IFRC.
Mario Sauceda from COPECO and José Juan Castro from Honduran Red Cross share why this law is important for Honduras.
Mauricio Lagos from the Ministry of Foreign Affairs explains why this law is needed.
Oscar Fernandez, from the Honduran Red Cross Society provides reflections on what was learned at the workshop.