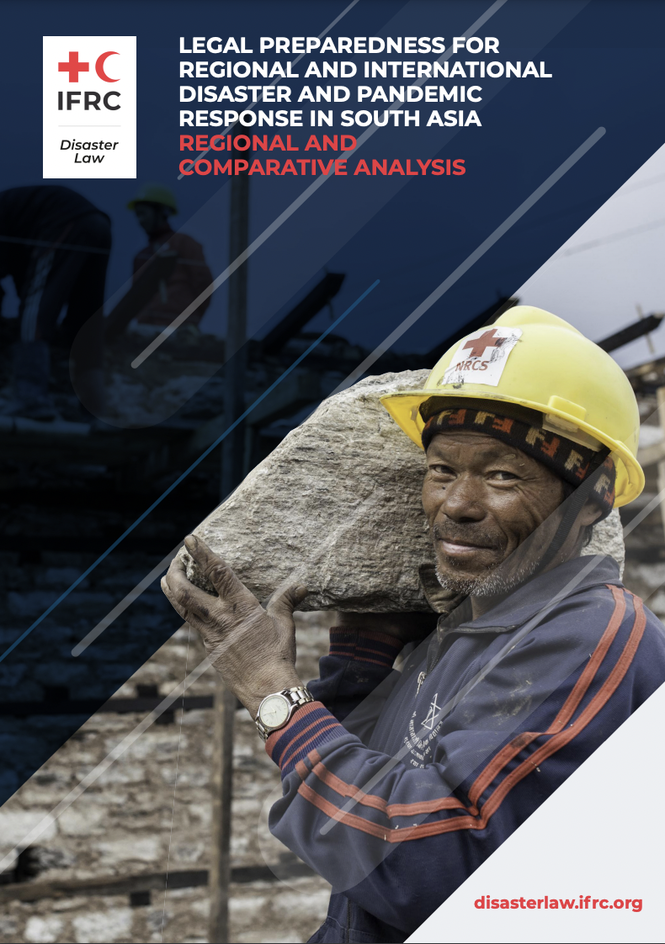 Legal preparedness for international and regional disasters and public health emergencies is key to countries in South Asia due to the escalating risks the region is facing.
South Asia is home to the largest, youngest and most seismic mountain region in the world, as well as one of the largest non-polar glacial deposits, which is melting due to climate change. It is prone to heavy rainfall, flooding, cyclones and storm surges and islands in the region are threatened by rising sea levels.
It is also impacted by public health emergencies such as the COVID-19 pandemic. These disasters threaten lives and livelihoods throughout the region. With disasters increasing in both intensity and frequency, countries may need support to prepare, respond and recover from disasters.
IFRC Disaster Law's new report, Legal preparedness for regional and international disaster and pandemic response in South Asia - Regional and comparative analysis, identifies trends in the legal and regulatory approaches to international disaster relief and recovery assistance in Afghanistan, Bangladesh, Bhutan, India, Maldives, Nepal, Pakistan and Sri Lanka.
Since 2005, there has been progress in South Asia with respect to laws and policies related to disaster risk management (DRM). There have also been initiatives at the regional level to strengthen collaboration and coordination on disaster risk management in South Asia. This has included a commitment to strengthen legal preparedness to facilitate and regulate international disaster assistance.
South Asia, like the rest of the world, has also been affected by the COVID-19 pandemic. In many cases, governments and humanitarian actors are being asked to respond to the twin impact of a COVID-19 response as well as preparing and responding to more unpredictable and extreme climate related hazards such as Cyclone Amphan which struck India and Bangladesh.
This pandemic response has required countries to implement exceptional measures, such as restrictions on mobility, to curb the spread of the virus and to protect public health. While border restrictions or closures may be justified, exceptions are needed to ensure international and national humanitarian assistance can reach populations in need.
It is critical that, similar to international and regional disaster assistance cooperation, humanitarian pathways for public health emergencies are formalized in law and policy to ensure sustained access of relief goods, trained personnel and assistance.
Our report found that each of the countries have a dedicated DRM legal framework, with the majority of these frameworks explicitly addressing the coordination and facilitation of international disaster assistance. However, the approaches to international assistance vary greatly across the region. The report identifies opportunities for further developing and strengthening these laws as well as highlighting existing best practices.