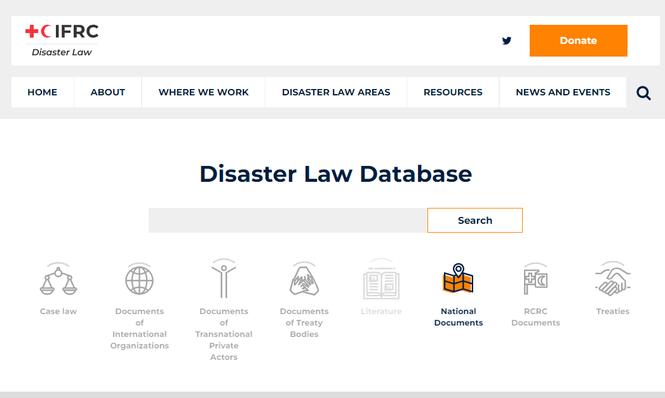 The national documents category is now live on the IFRC Disaster Law Database, the world's largest collection of documents relating to disaster law.
The national documents category comprises documents relating to disasters — including laws, regulations, decrees, policies, strategies and contingency plans — from more than 100 countries around the world.
Rachel Macleod, IFRC Senior Disaster Law Officer says the national documents category will be very helpful for practitioners and academics working in the field of disaster law.   
"Disaster law is an emerging and important field of law yet locating domestic instruments can be a time-consuming task. The IFRC Disaster Law Database makes domestic disaster laws readily accessible to practitioners and academics alike."
IFRC Disaster Law would like to grow the Database, so please share any new DRM laws and policies from your country with us so that we can add them to the Database and ensure it is a rich repository of disaster law materials.
In addition to the national documents category, the Database includes documents in the following categories: case law, documents of international organisations, documents of transnational private actors, documents of treaty bodies, Red Cross and Red Crescent documents, and treaties.
Documents come from the international, regional and domestic levels, and from a wide range of actors including states, international organisations, the IFRC and academic institutions.
To use the database, begin by typing your search terms into the search bar. You can then narrow your search using the filters that appear on the left of the search results page. All documents are available in PDF format and, where available, translations are provided.
The Database is an initiative of IFRC Disaster Law and Roma Tre University. The Database was developed by Professor Giulio Bartolini, Dr. Eleonora Branca and Dr. Carlo De Stefano of Roma Tre University and by Isabelle Granger and Rachel Macleod of IFRC.