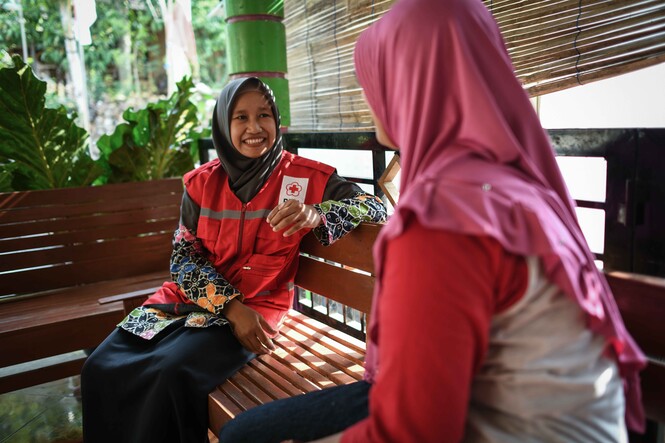 The auxiliary role of National Red Cross and Red Crescent Societies is a unique and special status, enabling National Societies to engage and contribute to national humanitarian preparedness and response.  
The auxiliary role is the formal relationship a National Society has with its government to provide humanitarian services, and it needs to be recognised in a country's laws.  
Often known as a Red Cross or Red Crescent law, it sets out what the National Society's humanitarian role is, and it ensures the government respects the Fundamental Principles of the Red Cross and Red Crescent Movement. 
IFRC Disaster Law works with National Societies to ensure their auxiliary role is strengthened in domestic law through extensive engagement advocacy and training.  
Isabelle Granger, IFRC Disaster Law and Auxiliary Role Global Lead says through a strong auxiliary role established in law, a National Society can not only have its humanitarian mandate recognised but can also have specific roles and rights across sectors like disaster management, health and migration.
"For a National Society, this could be a  seat on a government committee, or a certain role, for example, responsible for providing temporary shelter and distribution of aid during an emergency. Legal rights might mean a tax exemption for humanitarian aid or expedited customs clearance.  
"Importantly, these legal provisions enhance the operation of a National Society, improving how they help people in need."
As well as ensuring a National Societies role in a country's laws, IFRC in partnership with National Societies is well-positioned to advocate for and provide technical support to strengthen a country's wider laws, policies and plans relating to climate change, and disaster risk management and emergency response. 
IFRC's Guide to Strengthening the Auxiliary Role through Law and Policy provides practical guidance to National Societies on how to strengthen their auxiliary role through domestic law, policies, plans and agreements. Download the Guide here.
Case studies: National Society advocacy for a strengthened auxiliary role
In Argentina, under a new governing board, the Argentine Red Cross engaged in an analysis of its auxiliary role and designed an action plan to enhance its capacities as a National Society, click here for the full case study.
In Mongolia, through smart and strong advocacy, Mongolia Red Cross worked with national authorities to develop a new Red Cross law and also helped strengthen and renew national disaster laws. Click here for the full case study. 
In Pakistan, the Pakistan Red Crescent has been active for more than seventy years but a misunderstanding about its legal basis and auxiliary role led to restrictions in its operations. This was remedied through strong National Society advocacy. Read the full case study here.
For more information and resources on the auxiliary role click here.