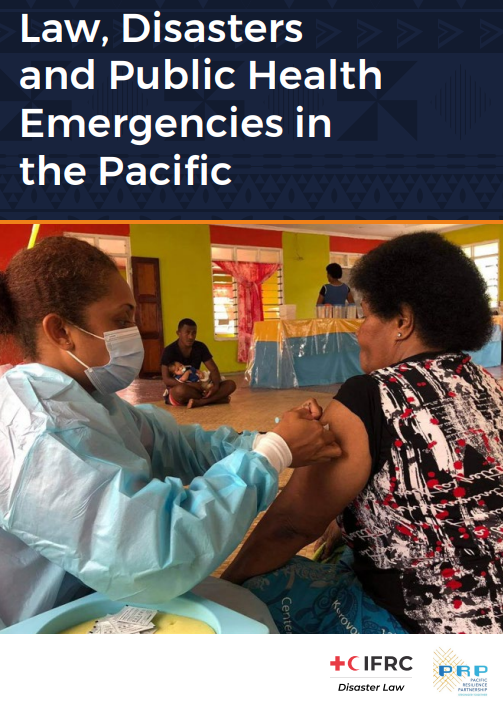 IFRC Disaster Law's new report - Law, Disasters and Public Health Emergencies in the Pacific, looks at the intersection of public health emergencies and disaster risk management systems in the Pacific, in light of the COVID-19 pandemic.
The report analyses laws, policies, and to the extent possible, practice between the level of integration and cohesion between disaster risk management and public health emergency frameworks across eight Pacific countries: Fiji, Marshall Islands, Papua New Guinea, Samoa, Solomon Islands, Tonga, Tuvalu, and Vanuatu, and was carried out in partnership with the Pacific Resilience Partnership's Technical Working Group on Risk Governance.
Findings from the report show disaster management and public health systems were put to the test during the COVID-19 pandemic, not only in response to the virus but also for various weather-related disasters – often at the same time.
Meiapo Faasau, IFRC Disaster Law Manager in the Pacific said the research shows both strengths and weaknesses from the experience of the region.
"The research demonstrates that Pacific Island states have proved adept at responding to the very different nature of COVID-19 in the region. In many cases effectively coordinating responses regardless of gaps in the relevant legal frameworks.  And, like other countries around the world, we saw a level of formal disconnect between public health emergencies and traditional disaster risk management.
"If the COVID-19 pandemic has taught us anything, it is the importance of being ready for the challenges a pandemic creates, especially when it plays out against other events such as Tropical Cyclone Harold, which tore through Pacific at the outset of COVID-19 in 2020.
"This has further highlighted the need for multi-hazard approaches to be entrenched in domestic preparedness and response systems, including an all of government – and all of society – coordination mechanisms."
As some of the Pacific governments emerge from the COVID-19 pandemic others are experiencing their first waves. Their experience is an opportunity to review and strengthen domestic legal risk governance frameworks.
Regional, national and local agencies across the Pacific are encouraged to use this Report's findings and recommendations to support more inclusive and coherent approaches to laws and policies for disaster events in the region.