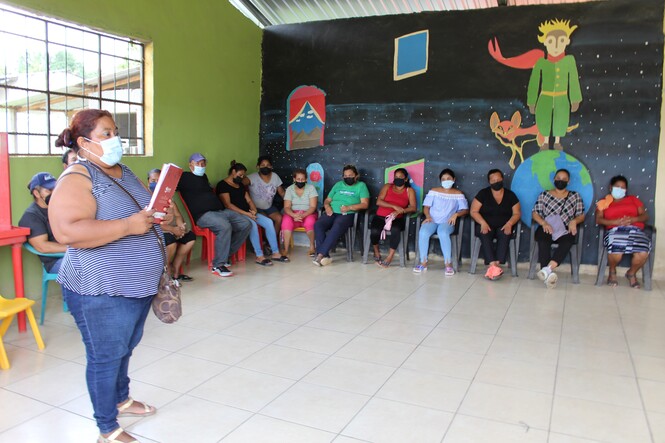 A community in Honduras hit by both Hurricanes Eta and Iota has shown how they can use their voices to empower their community and change lives through legislative advocacy training. 
As well as working to ensure governments have strong and relevant laws and policies for disasters in place, IFRC Disaster Law works with communities across the Americas to ensure they can navigate and advocate for change to disaster laws that affect them.  
IFRC Disaster Law's Legislative Advocacy Toolkit is a training to strengthen advocacy skills to influence and impact law, policies or general community needs. The Toolkit is a useful resource to support a range of advocacy initiatives by Red Cross and Red Crescent National Societies and communities, not only those related to disaster law.
In Honduras, legislative advocacy training was conducted in disaster-prone communities by IFRC Disaster Law and Honduran Red Cross, as part of the Zurich Flood Resilience Alliance partnership in 2021. 
In December 2021, IFRC Disaster Law and Honduran Red Cross returned to Chamelecón community in San Pedro Sula, one of the communities that took part in the training, to learn how they have used their new-found advocacy skills. 
Chamelecón is a small community of approximately 300 families. Infrastructure is basic, with dusty gravel roads and no access to safe drinking water. But it is home to a group of strong women who lead community projects, including establishing a small park for children and a community nursery. 
Mrs Marlene Sosa, pictured above, is one of the women who took part in the training. She said the legislative advocacy tools allowed her and the other women in her community to prepare and plan to advocate for their needs. She said because they lived in a flood-prone area, the community needed a dike for flood protection, and this was something she wanted to advocate for.
With the guidance of the toolkit, Mrs Sosa was developing an advocacy plan, in which she outlined the community, defined the problem, clarified a request, and offered a solution. She was practising her elevator pitch for the dike before approaching the local government.
IFRC Disaster Law's Americas Officer Rebeca Munoz says Mrs Sosa and the community's enthusiasm and ability to take on the training was impressively admirable.
"The community knows their needs and they applied the tools from the training, which shows how they can take ownership of their advocacy to help solve a problem. I look forward to hearing how Mrs Sosa proposal for the dike goes with the council."
Further Legislative Advocacy Toolkit training is a priority both for National Societies and for IFRC staff in the Americas and around the world in 2022. 
Zurich Flood Resilience Alliance 
The Zurich Flood Resilience Alliance (ZFRA) is working with IFRC, the Costa Rican Red Cross and the Honduran Red Cross to study the legal standards for flood risk reduction in their countries. 
The ZFRA is a multi-sectoral partnership focusing on finding practical ways to help communities in developed and developing countries strengthen their resilience to flood risk. This is crucial in a country like Honduras which is ranked as one of the top five countries in the world most vulnerable to disasters. 
In Honduras, the study looked at the strengths and weaknesses of the legal framework for flood risk reduction and serves as evidence for an advocacy campaign and to develop recommendations for improvements. The partnership also provided space for the three municipalities to share their experiences of the COVID-19 response as well as challenges regarding advocacy. 
Honduran Red Cross – leaders in legal advocacy
The Honduran Red Cross are leaders in legislative advocacy, with years of experience in research and advocacy for strengthening domestic disaster-related laws.
In 2020, amid Hurricanes Eta and Iota, the National Congress of Honduras passed a law to ensure laws and regulations are in place for national and international agencies to better respond to disasters. The new law, Law for the facilitation of humanitarian assistance in case of disasters and initial recovery, was adopted by Congress on 11 November 2020 and, subsequently, endorsed by Honduran President Juan Orlando Hernandez on 14 November 2020. 
The law also institutes an IDRL Group, composed of key government representatives), the Honduran Red Cross and IFRC. The IDRL Group will help to train Red Cross staff and volunteers, and government officials in disaster law. The Honduras Red Cross continues to work with the Government to develop a new regulation to operationalise the law.
Click here for more information on the development of Disaster Law in Honduras and in the region.