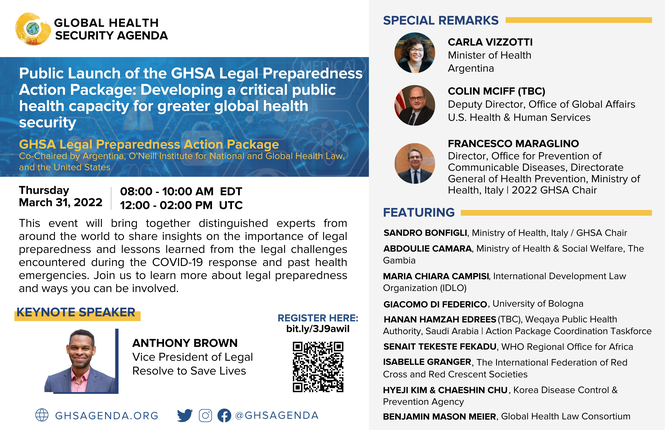 Public Launch of the GHSA Legal Preparedness Action Package: Developing a critical public health capacity for greater global health security
Thursday, 31 March 2022
8:00 –10:00 A.M. EDT | 12:00 –2:00 P.M. UTC
Join the public launch of the Global Health Security (GHSA) Legal Preparedness Action Package. The event will bring together distinguished experts from around the world to share insights on the importance of legal preparedness and lessons learned from the legal challenges encountered during the COVID-19 response and past health emergencies. Learn more about legal preparedness and ways you can be involved.
Isabelle Granger, Disaster Law Coordinator and Head of Policy and Humanitarian Diplomacy at IFRC will moderate the Roundtable on Legal Preparedness Challenges at the launch. 
The GHSA Legal Preparedness Action Package was established in September 2021 under the leadership of Argentina, Georgetown University's O'Neill Institute for National and Global Health Law, and the United States in response to the legal barriers countries faced in their COVID-19 response and past emergencies. The Action Package is a unique global initiative to promote legal preparedness as a critical capacity for an effective public health emergency response and strengthening global health security and to develop technical tools to help countries strengthen their legal preparedness for future public health emergencies.
For the full agenda and list of speakers please click here. 
Click here to register for the event.