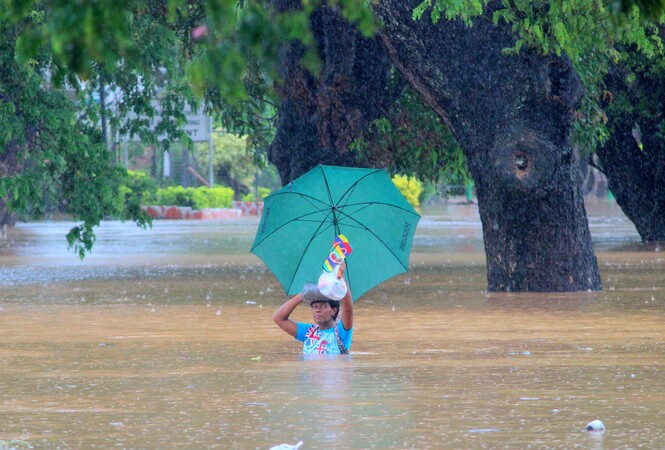 As world leaders gather for COP 26, IFRC Disaster Law is calling for greater coherence across climate change adaptation, disaster risk reduction and development agendas at national and international levels.
Integrated laws and systems across the humanitarian, development, environment and climate sectors are needed to ensure coherence, stronger coordination, and enable concrete impacts on the ground. The law plays a critical role in institutionalising coherent systems, which helps to provide a foundation that can better keep communities safe and save lives.
Isabelle Granger, IFRC's Global Legislative Advocacy Coordinator says a coherent approach at the domestic level is needed to meet states' closely related commitments under the Paris Agreement, the Sendai Framework for Disaster Risk Reduction and the UN 2030 Agenda for Sustainable Development.
"The international directive is clear. There has been much investment in the international legal and policy frameworks, now it is a matter of making sure it has an impact at the local level. Domestic laws and policies are the foundation for making sure that action happens, and that it happens in a coherent and coordinated way."
The needs of the most vulnerable and marginalised people and communities must be a top priority when updating or developing domestic climate- and disaster-related legal frameworks. This includes people in crises and those displaced, who need to be reached, informed and included in global, national and local decisions and plans, to ensure their needs are met.
As the global leader in climate-smart disaster law, IFRC Disaster Law stands ready to support governments to develop and implement coherent legal systems. IFRC has 20 years of advising law and policymakers on disaster laws, policies and plans. In partnership with National Red Cross and Red Crescent Societies, we have provided support in more than 95 countries.
The Risk-Informed Early Action Partnership
Through the Risk-Informed Early Action Partnership (REAP) countries are being supported to connect disaster risk reduction and climate change adaptation laws and policies to regulate early action to reduce the impacts of disasters.
The REAP partnership aims to have 50 countries with integrated disaster risk management and climate adaptation laws, policies and plans by 2025. The REAP network is supporting Red Cross and Red Crescent initiatives in countries vulnerable to climate change including Saint Lucia, Panama, Cabo Verde, Uganda, Malawi and Fiji.
Climate-smart disaster law in Fiji
In 2016, Tropical Cyclone Winston tore through Fiji destroying homes, infrastructure and livelihoods. 43 people were killed, 62 per cent of the population was affected and cyclone-related losses were estimated at 32 per cent of Fiji's GDP.
Following the cyclone, the Government of Fiji decided it needed to strengthen and update its disaster law, policies and procedures. The Government asked Red Cross to assist and in 2018 an MOU was signed to review the Natural Disaster Management Act 1998 and the National Disaster Management Plan 1995. Fiji Red Cross, as an auxiliary to the Government and a longstanding partner, and IFRC, with its disaster law leadership, were a natural choice for the Government.
Extensive participation and stakeholder engagement provided opportunities for people's voices to be included in disaster law decision making, both collectively and individually. This helped to ensure protection, gender and inclusion are key components of the draft Disaster Risk Management Bill and that no one is left behind.
The Bill establishes disaster risk management committees from subnational to community level who will have community-based disaster risk management plans and will communicate risk to their communities and the centralised system.
A strong collaboration between NDMO and the Fiji Climate Change Division for an integrated risk management approach at the community level was also a key recommendation of the review process. As the review of the Natural Disaster Management Act was underway, a Climate Change Bill was under development and has now been passed into law.
The shared themes of the Fiji Climate Change Act 2021 and the draft Disaster Risk Management Bill include a people-centred approach, emphasis on risk-informed approaches and strengthening of Fiji's resilience. The NDMO and Climate Change Division continue to collaborate on addressing climate and disaster risk.
Detailed case studies and snapshots will be presented as part of the 26th UN Climate Change Conference of the Parties (COP26) in Glasgow from 31 October – 12 November 2021 and include Fiji, Malawi, Panama, Philippines, Saint Lucia and Uganda. You may access all of these under the Publications section of our website.