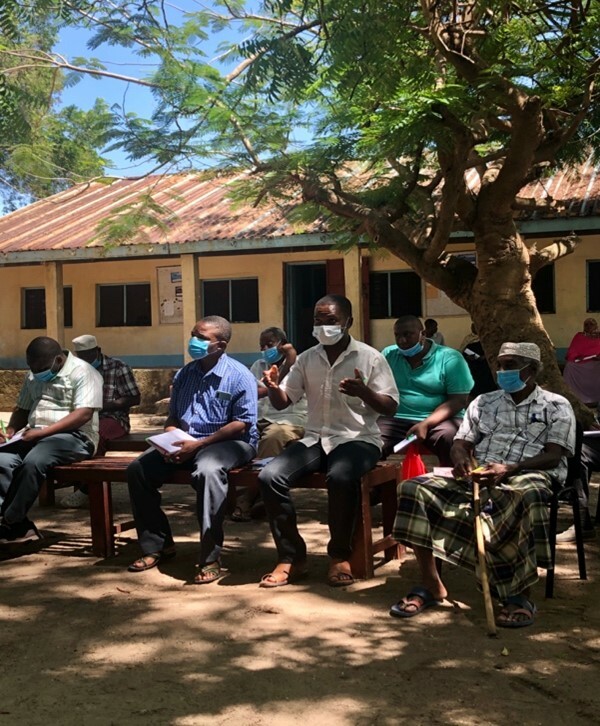 A strong legal framework that enables and empowers national responders and leadership in emergencies is a must for the effective integration of all aspects of disaster risk management.
IFRC Disaster Law works with National Societies and governments around the world to develop national climate, disaster and emergency related legislation, policies and procedures, all of which is grounded in the principle of locally led humanitarian action.
María Martínez, IFRC Disaster Law Coordinator for Africa, says that strong and effective disaster law and policy is the foundation for all aspects of disaster management, and helps to ensure disaster management is as locally led as possible.
"Through the technical support we provide to governments in the regulation of legal and institutional frameworks, we ensure strong disaster risk governance systems that involve all levels of community."
Under the Grand Bargain, donors, governments and humanitarian organisations have pledged to be 'as local as possible, as international as necessary,' committing to work through, strengthen, scale-up and fund national humanitarian systems.
IFRC Disaster Law's guidelines for the domestic facilitation and regulation of international disaster relief and initial recovery assistance (IDRL Guidelines), help national governments that are in the driver's seat when it comes to international disaster assistance. Through the implementation of the IDRL Guidelines, we have supported governments to define the roles and responsibilities, as well as procedures in large-scale disasters.
"Localization is also about complementarity, a balance between local and international action to maximise the comparative advantages of both and increase the effectiveness of the humanitarian response in a given context. International humanitarian action remains extremely important."
A move from centralised decision making to more decentralised decision making in the disaster risk management space, to put governance and decision-making right at the community level is also supported by IFRC Disaster Law. Just as national authorities must be supported in their DRM efforts, so too must be authorities at the grassroots level of the community.
Within risk governance structures at both national and regional levels, IFRC Disaster Law and National Societies further work with governments to ensure all members of society have the opportunity to be included and protected by disaster law and policy, particularly the most vulnerable.
Ensuring there is solid community engagement to provide a platform for all voices to be heard and different protection gender and inclusion considerations to be included in the relevant laws and systems is a must.
Strengthening community disaster risk reduction governance in Kenya
Community managed disaster risk reduction committees in Kenya are putting the people most affected by disasters in the decision-making seat.
Following the Tana River County Disaster Risk Management Act 2020 and draft disaster management policy, community managed disaster risk reduction committees have been established to strengthen community governance and participation in disaster risk management.
Eighteen committees have been set up across five wards and three sub-counties, bringing together key people and leaders within communities, vulnerable groups such as women, people with disabilities and youth representatives.
Supporting communities to strengthen their knowledge of the disasters they face, and how to manage the disaster through preparedness and response, helps reduce the impact of the disaster, ultimately keeping the community safe and helping to save lives and livelihoods.
Tana River Chief Officer for Special Programmes, Salima Makuru said the committees have helped his community feel ownership of their disaster management processes.
"We are beginning to realise that we have the potential and resources to generate solutions to our disaster management problems before seeking external support".
The committees were trained in disaster risk management, climate change adaptation, gender mainstreaming in disaster risk reduction and how to interpret climate information. The committees have been supported to map out flood prone areas, identify communities at risk to hazards, and to determine early warning communication channels and early actions for their communities to mitigate the impacts of disasters. They also received technical support to mobilize resources and to develop disaster preparedness, communication and coordination plans.
The project is an initiative of the Kenya Red Cross Society, the World Food Programme, the International Committee for People Development and the Tana River County Government department of Special Programmes.
Training communities in disaster law and advocacy in the Philippines
The Philippine Red Cross is working to strengthen community knowledge of disaster law and policy.
Since 2107, the Philippines Red Cross has trained more than 150 staff and volunteers at the branch level on the rights, roles, and responsibilities of the National Society, government, humanitarian actors, and communities in disaster risk management laws, policies and plans. The training teaches participants ways to advocate for laws that help communities, integrate their rights and contribute to increasing their resilience in disasters.
Bryan Soledad, the Officer in Charge of the Philippine Red Cross Western Samar Chapter, is a disaster law training facilitator and says that advocacy and engagement is a crucial way of helping the communities they work with. Through understanding how to engage in advocacy, he has managed to secure regular funding and gain regular access to local government forums.
While attending the Sangguniang Panlalawigan (provincial legislative council) meeting, he was unexpectedly asked to talk about the work of Red Cross. Bryan says through training in advocacy, he understood the valuable opportunity it presented, so talked to the leaders about forecast-based financing and early action protocols, first aid and other humanitarian activities of his branch.
"After I spoke, the council said that Red Cross should always be invited since we are first responders during disasters and insisted that it be included in the next local disaster risk reduction and management planning session."
Through Bryan's attendance and engagement at the meeting, his chapter now has regular contact with local government focal points and is part of local decision-making cycles.