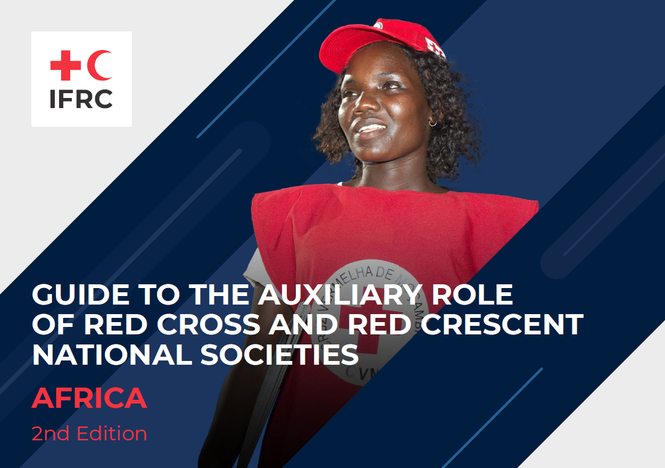 The Guide to the Auxiliary Role of Red Cross and Red Crescent Societies: Africa has been revised to support African National Societies, as well as public authorities and stakeholders, to understand the foundational aspects of the auxiliary status. 
A healthy and robust auxiliary status ensures that a National Society can effectively contribute to national and global humanitarian response and sustainable development systems. A National Society's auxiliary role offers a fundamental point of engagement with its public authority counterparts.
African National Societies are often the key partner of choice to national governments in actioning their humanitarian and development commitments. This Guide offers simplified information on how the auxiliary role can support clarification of roles and responsibilities in the achievement of these national objectives.
Further, the Guide enhances recognition of the important role the Fundamental Principles of the International Red Cross Red Crescent Movement play in determining the National Societies' partnerships with public authorities. The clarity offered is expected to foster a strong relationship between the national government and the National Society, thereby making humanitarian and development action more effective and efficient.
Additionally, the Guide provides practical examples from this region of how different National Societies have harnessed their auxiliary status to improve not only service delivery to the most vulnerable but also their capacity to support their public authorities.
Recognizing that what constitutes a successful auxiliary role is often contextual, the Guide offers an illustrative perspective of what the auxiliary role can encompass. The Guide may be used in conjunction with the IFRC Guide to Parliamentarians, as well as the Guide to Strengthening the Auxiliary Role through Law and Policy.
It is hoped that this updated Guide will serve to enhance the understanding of the crucial nature of the auxiliary role of African National Societies as well as bolster their engagements with their public authorities.
The Guide is available in English and will soon be available in French and Portuguese.