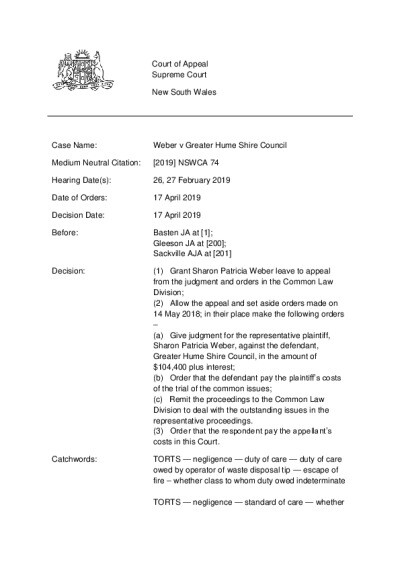 Description
This case law summary was developed as part of the Disaster Law Database (DISLAW) project, and is not an official record of the case.
Case Name
Weber v Greater Hume Shire Council
Case Reference
[2019] NSWCA 74
Name of Court
Court of Appeal of New South Wales
Decision and Reasoning
In terms of the duty, the Court confirmed that there was a duty and that it did not matter that the parties the duty was owed to were not identifiable before the fire. This was because it was foreseeable that the fire may reach the town and given the propensity of a fire to spread across land covered with trees and dried grass in hot windy conditions, the Court saw no reason to limit the duty to an area less than that burnt by the fire.

On the basis that the Council had a duty to take reasonable steps to prevent unintended fires at the tip and to prevent the spread of fire from the tip, the Court stated that for there to be a successful negligence claim against a public authority, the plaintiff must establish that there were precautions available which a reasonable public authority in the position of the defendant would have taken. The Court found that there were such precautions available, including compacting the general waste, removing long grass and providing a 10m wide firebreak clear of any trees. Further to this, the Court noted that there was no financial constraints which would have precluded the Council from doing so. For these reasons, the Court held that there was causation, as if the precautions had been taken the fire would have been controlled before it escaped from the tip.

Judge Sackville agreed with the above finding, however, for different reasons. Instead, stating that where a occupier has negligently lit or let a fire escape from their property and it has been established that they breached the duty of care owed, there are no principled reasons to limit the right to recover damages to the adjoining owner rather than occupiers of more distant lands.
Outcome
The Court held that the Council did owe Weber and others in the same situation a duty of care and that the duty had been breached. The Court agreed with Weber that the trial judge had made an error in finding that there was no causation, finding that had the Council taken precautions the fire could have been controlled within the tip. For these reasons, the Court ordered the Council to pay compensation for the damage caused by the fire.