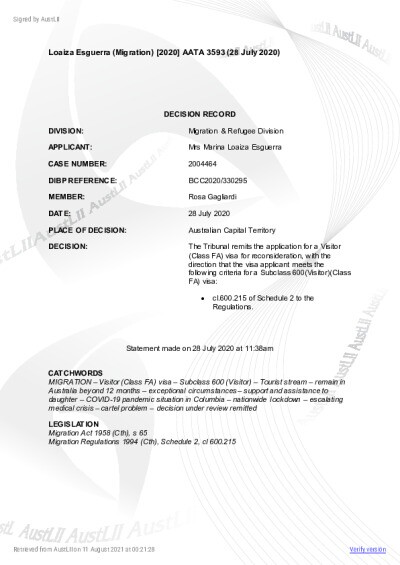 Description
This case law summary was developed as part of the Disaster Law Database (DISLAW) project, and is not an official record of the case.
Case Name
Loaiza Esguerra (Migration)
Case Reference
[2020] AATA 3593
Name of Court
Administrative Appeals Tribunal
Decision and Reasoning
The Tribunal held that although helping her daughter with her kids did not amount to exceptional circumstances, the concerns surrounding Esguerra's return to Colombia during the Covid-19 pandemic did. Despite not being in the highest age risk category, the Tribunal stated that they had genuine concerns that Esguerra would be vulnerable in a country where medical resources were scarce, there were significant increases in cases and continued community lockdowns (lockdown had been extended six times at that point). The Tribunal also noted the collapse of the Colombia's healthcare system and the "well-known cartel problem", who, during the pandemic, had imposed their own lockdowns across Colombia, killing those who did not obey. For these reasons, the Tribunal held that there were exceptional circumstances.

The also held that Esguerra's presence in Australia for a longer period was not inconsistent with the exceptional circumstances, but noted that the Visitor visa was not a long-term solution if permanent migration was her intention.
Outcome
The Tribunal held that Esguerra met the criteria for a Subclass 600 Visitor visa.