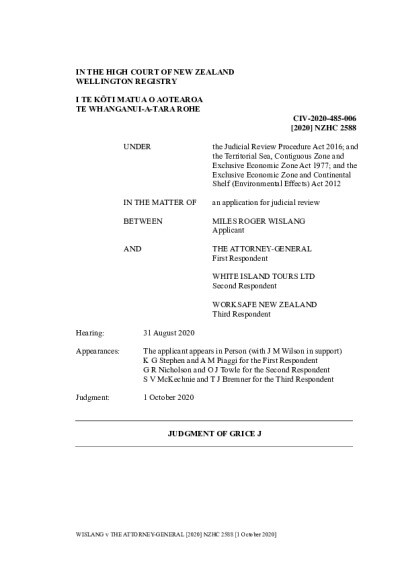 Description
This case law summary was developed as part of the Disaster Law Database (DISLAW) project, and is not an official record of the case. 
Case Name
Wislang v Attorney-General
Case Reference
[2020] NZHC 2588
Name of Court
High Court of New Zealand
Decision and Reasoning
The Court dismissed Wislang's claims that WorkSafe was obliged to produce specific safety standards for activities on active volcanoes. They cited the clear uses of 'must' and 'may' in s.19 of the Health and Safety at Work (Adventure Activities) Regulations 2016, which showed that WorkSafe was only obliged to publish one safety standard – which they had done. It did not matter that this was a general standard for all adventure activities.

Wislang's next claim argued that WorkSafe breached its obligations by failing to place a condition on WITL's registration which would have required monitoring of GNS levels and to not take tours to Whakaari when the GNS volcano alert was at level two or higher. The Court also dismissed this claim. This is because WorkSafe is not the certifying body (the relevant safety auditors were not a party to the proceedings) and there was nothing in the statutory regulations that permitted WorkSafe to require any conditions. Nor were there grounds to refuse to register WITL. Furthermore, the design of the legislation places the primary responsibility for managing risks on the adventure activity operator, not with WorkSafe.

For these reasons the Court found that there were no justiciable issues against WorkSafe.

As Wislang's statement of claim did not point to a statutory power of decision exercisable or exercised by the responsible Minister, and the Minister responsible for health and safety is not permitted to direct WorkSafe to act in a particular way towards an individual (s.113 of the Crown Entities Act), there were no decisions or failures which were challengeable by judicial review against the Attorney-General.
Outcome
The application for judicial review was dismissed. Wislang was ordered to pay all three respondent's costs, totalling over NZ$120,000: Wislang v Attorney-General [2020] NZHC 3172.

As New Zealand's compulsory insurance for personal injury, the Accident Compensation Corporation, prevents civil proceedings for personal injury in New Zealand, no claims for personal injury have been bought. However, WorkSafe has charged 13 parties for failing to meet their obligations under the Health and Safety at Work Act 2015, including White Island Tours Ltd, who were a respondent in this case.