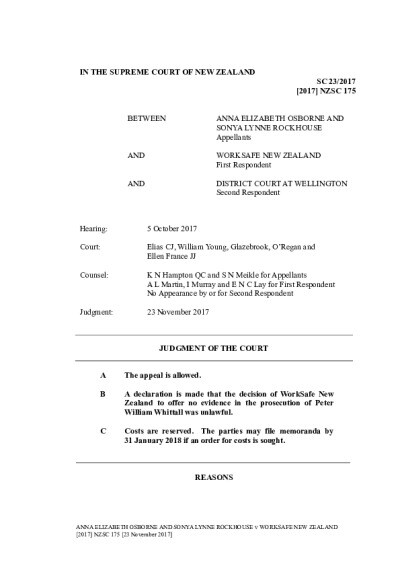 Description
This case law summary was developed as part of the Disaster Law Database (DISLAW) project, and is not an official record of the case.
Case Name
Osbourne v WorkSafe New Zealand
Case Reference
[2017] NZSC 175
Name of Court
Supreme Court of New Zealand
Decision and Reasoning
The Court stated that an agreement not to prosecute in return for payment of money to compensate the victims would have been unlawful and that a decision to offer no evidence in fulfilment of such a bargain would have then been taken unlawfully. For this reason, the central issue was whether Whittall's conditional arrangement to pay the reparations owed by Pike River Coal to the victims was an attempt to prevent prosecution, or an offer of voluntary payment which WorkSafe was entitled to take into account when making decisions surrounding prosecution.

The Court reached "the inevitable conclusion that such arrangement was an unlawful bargain to stifle prosecution". The Court held that it was irrelevant that WorkSafe had other reasons for resolving the charges without trial, such as the cost and what they perceived as a lack of public interest, as this did not take away from the fact that the arrangement would only occur if WorkSafe agreed to not offer evidence. Nor was it relevant that the arrangement was put forward by Whittall. They also noted that in exchanges between Whittall's counsel, the Crown Solicitor and WorkSafe, the conditional arrangement was called the "central arrangement".

It must be noted that the Court found there is considerable public interest in prosecuting breaches of safety in employment and it did not matter that there was an underlying harm, in that the families would not otherwise have been paid what was owed to them.
Outcome
Due to the passage of time, the Court was not able to grant an order requiring the prosecution of Whittall.

As a result of this case, as of 23 November 2020, the New Zealand Law Society was investigating a complaint into Stuart Grieve QC (Whittall's lawyer) and Brent Stanaway (then Crown Solicitor) for their involvement in the unlawful deal. The outcome of this investigation has not yet been published (as of June 2021).