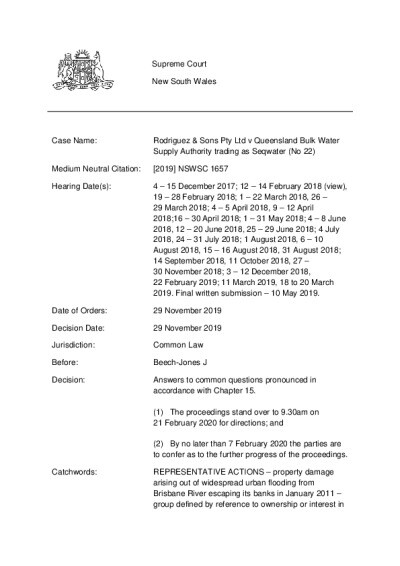 Description
This case law summary was developed as part of the Disaster Law Database (DISLAW) project, and is not an official record of the case. 
Case Name
Rodriguez & Sons Pty Ltd v Queensland Bulk Water Supply Authority
Case Reference
[2019] NSWSC 1657
Name of Court
Supreme Court of New South Wales
Decision and Reasoning
The Court accepted that Seqwater and each of the flood engineers owed a duty of care to the plaintiff and sample group members, as their exercise of control over releases corresponded to a significant level of control over water flow – including a significant but not complete control over the risk of flooding. Therefore, people downstream were vulnerable to any negligent exercise of that control. The Court stated that it did not matter that the class of person that the duty was owed to was very large.

The Court found that each of the flood engineers breached the duty of care owed multiple times between 2-10 Jan 2011, which the judge was satisfied were jointly sufficient to account for the particular harm to the plaintiff's store and other forms of harm to the sample group member's property.

The Water Supply (Safety and Reliability) Act 2008 stated that Dam owners were exempt from civil proceedings where an act or omission was honestly made and without negligence. However, this was not the case here. As the Court accepted that Seqwater, SunWater and the State were vicariously liable for breaches of the duty of care owed by the flood engineers that they employed, they were liable for their negligence.

The claims of nuisance and trespass failed.
Outcome
The plaintiff and selected sample of group members succeeded in their negligence claim against all of the defendants.

This was the principal judgment, damages for the other group members were determined later – overall the defendants were ordered to pay AUS$440 million in damages.