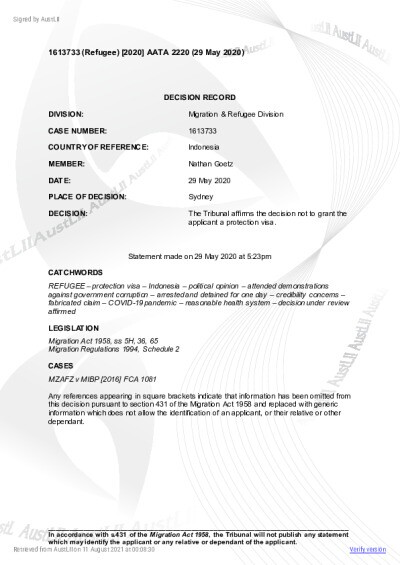 Description
This case law summary was developed as part of the Disaster Law Database (DISLAW) project, and is not an official record of the case.
Case Name
1613733 (Refugee)
Case Reference
[2020] AATA 2220
Name of Court
Administrative Appeals Tribunal
Decision and Reasoning
The Tribunal was not satisfied that there was anything to suggest that the applicant had either a well-founded fear of harm due to the claimed political activism or previous detention, or, that he was a target for arrest by the Indonesian authorities or anyone else. Therefore, they held that he did not satisfy the grounds for protection for political activism. The Tribunal then turned on the issue of the Covid-19 pandemic.

They found that there was nothing to suggest that the Covid-19 pandemic has any connection to serious harm in Indonesia on account of the applicant's race, religion, nationality, membership of a particular social group or political opinion. Nor were they satisfied that the applicant had a well-founded fear of persecution on this basis.

In terms of the risk of contracting Covid-19, the Tribunal found that although there is a risk of contracting Covid-19, there is no evidence that this is due to the Indonesian government or health services deliberately withholding treatment to specific groups. Furthermore, they found that this risk is the same for anyone in Indonesia and Australia. For these reasons, they were not satisfied that there were substantial grounds for believing that there is a real risk he will suffer significant harm as a necessary and foreseeable consequence of his removal to Indonesia.
Outcome
The Tribunal was not satisfied that the applicant was a person in respect of whom Australia had protection obligations under s.36(2) of the Migration Act 1958 (Cth).

The Tribunal affirmed the decision to not grant the protection visa either on the grounds of refugee status or complementary protection.