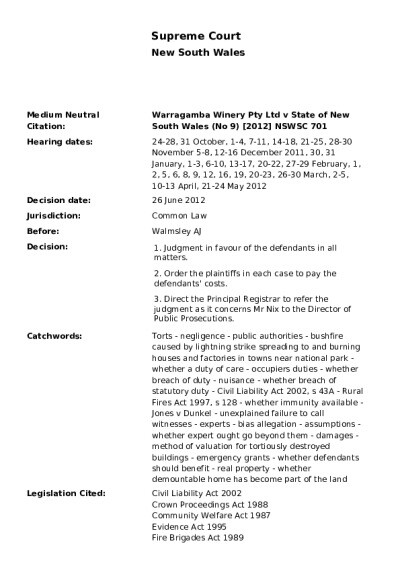 Description
This case law summary was developed as part of the Disaster Law Database (DISLAW) project, and is not an official record of the case. 
Case Name
Warragamba Winery Pty Ltd v State of New South Wales (No 9)
Case Reference
[2012] NSWSC 701
Name of Court
Supreme Court of New South Wales
Decision and Reasoning
As the plaintiffs conceded that the nuisance count should fail if negligence could not be established, and the Court held that the statutes relied on by the plaintiffs did not create an actionable statutory duty, the Court stated that the case either stood or fell on the law of negligence.

General duty:
The Court held that the defendants did not owe a duty of care to the plaintiffs as they did not make the fire worse, create a new hazard or have any control over the fire. Furthermore, the Court held that the plaintiffs were no more vulnerable than other members of the public, so the defendants could not have been expected to have concentrated their attention on individual plaintiffs, instead they had to consider the community as a whole.

Occupiers' duty:
In terms of SCA and NPSW, the Court held that neither did anything to make the fire worse and there was nothing either could have done to stop the fire. The Court also noted that the obligation to reduce or abate a hazard did not include warning someone, as this would be a new and unjustified meaning of reduce and abate. Therefore, they did not owe a duty of care as occupiers.
Outcome
The plaintiffs' claims against all the defendants were dismissed.