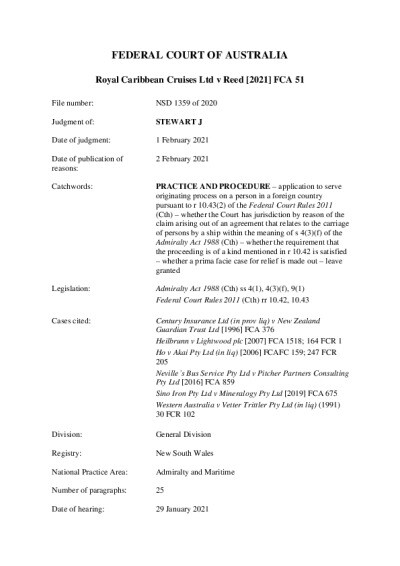 Description
This case law summary was developed as part of the Disaster Law Database (DISLAW) project, and is not an official record of the case. 
Case Name
Royal Caribbean Cruises Ltd v Reed
Case Reference
[2021] FCA 51
Name of Court
Federal Court of Australia
Decision and Reasoning
In order to grant the RCCL leave to serve the Reeds, as per r 10.43(4) of the Federal Court Rules 2011 (Cth), the Court had to be satisfied that: 1. they have jurisdiction in the proceeding; 2. the proceeding is of a kind referred to in r 10.42; and 3. they have a prima facie case for all or any of the relief claimed in the proceeding.

1. The Court was satisfied that they did have jurisdiction through s.9(1) of the Admiralty Act 1988 (Cth).

2. The Court was also satisfied that the proceeding was of a kind mentioned in rule 10.42, as the proceeding was in relation to a contract within the meaning of item 3(b) of the schedule in r 10.42.

3. In order to have a prima facie case, the Court stated that the material presented must show that a controversy exists between the parties and that this warrants the use of the Court to resolve it. Although the tickets for the cruise did include an exclusive jurisdiction clause (this being New South Wales), this contract of carriage was between the Reeds and RCL. Therefore, the Court stated that RCCL would not appear to be able to rely on the exclusive jurisdiction clause as they were not a party to that contract. However, the Reeds claimed that their contractual counterparty was RCCL. If this was correct, the contract was between Reed and RCCL, so RCCL would enjoy the benefit of the exclusive jurisdiction clause. Therefore, the Court stated that there is at least a prima facie case that the Florida proceeding is brought in breach of the contract, so there is a prima facie case for the anti-suit injunctive relief sought by RCCL.
Outcome
The Court was satisfied that RCCL should have leave to serve the originating papers on the Reeds in their home state (Maryland, USA) in accordance with a method of service permitted by the law applicable there.