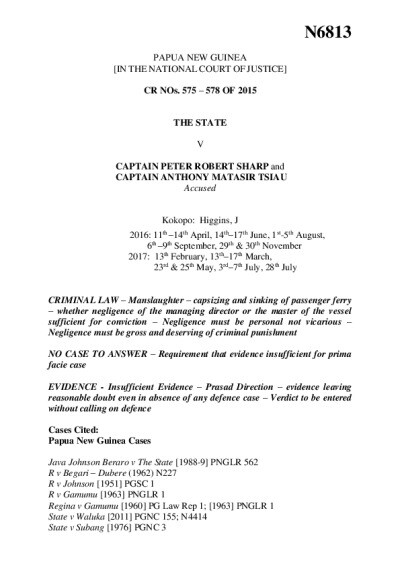 Description
This case law summary was developed as part of the Disaster Law Database (DISLAW) project, and is not an official record of the case.
Case Reference
[2017] PGNC 230
Name of Court
National Court of Justice of Papua New Guinea
Key Facts
On 27 February 2012, a passenger ferry – the MV Rabaul Queen – capsized and later sank after it was hit by three very large waves. Although it is not known how many people lost their lives in the sinking, there were at least 140 named victims.
Decision and Reasoning
In terms of Sharp, the Court stated that although s.287 had limited application, he had a personal obligation to ensure the safe operations of the Company's ships. Despite Sharp having the duty of oversight to properly instruct and equip the ship in terms of safety precautions, there was no evidence that he had not done so. Nor was there evidence that he knew the ship was overloaded. Furthermore, the Court stated that the unqualified crew (Sharp's responsibility to rectify) did not necessarily endanger the public. For these reasons, Sharp was acquitted.

In terms of Captain Tsiau, the Court found that there was a prima facie case that he had breached his duty towards the passengers by failing to take all reasonable steps to safeguard the life and safety ofall on board in anticipation of such an unforeseen but possible event. However, negligence could only support a conviction for manslaughter where it was causative of, or at least materially contributed to, the death of a person. The Court found there was only a tenuous casual connection between the negligence and the deaths that occurred, for this reason the Court held that a not guilty verdict was mandated.
Outcome
Both Sharp and Tsiau were acquitted.