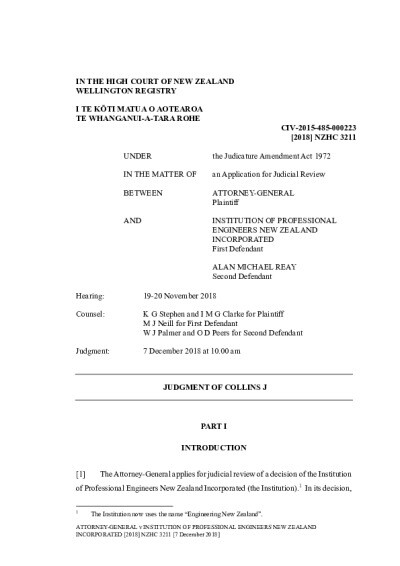 Description
This case law summary was developed as part of the Disaster Law Database (DISLAW) project, and is not an official record of the case.
Case Name
Attorney-General v Institute of Professional Engineers New Zealand Incorporated
Case Reference
[2018] NZHC 3211
Name of Court
High Court of New Zealand
Key Facts
Following the 7.1 magnitude earthquake which struck Canterbury on 4 September 2010. 115 persons died when the Canterbury Television (CTV) building collapsed.
Decision and Reasoning
The Court first considered whether it was possible for the Attorney-General to bring the proceedings in his own right, not just on behalf on the complainant. The judge found that he could, as there is significant and genuine public interest in ensuring professional disciplinary procedures are done in accordance with the law, the CTV collapse was a "major national disaster", and Reay, through the code of ethics, was required to recognise his responsibility to the public interest. The Court also found that judicial review into disciplinary proceedings is appropriate, especially where it involves issues of legal interpretation.

Under the Institute's Rules, they were only able to discipline a member, so the Court had to determine whether Reay was a member. Citing the principles of contractual interpretation, the Court found that the term 'member' includes a person who was a member when disciplinary proceedings commenced but has since resigned. This was because the use of 'member' in the Rules was not limited to situations where people currently held membership, and a reasonable person reading the relevant Rules would have been reluctant to conclude that the Institute intended a member to escape disciplinary proceedings by resigning, as this would undermine public trust. Furthermore, the Rules only specify that membership is a requirement at the time of the complaint.
Outcome
The Court made two declarations: first, that the Institute has jurisdiction to investigate the complaint; second, it was wrong in law to dismiss the complaint.

As of June 2021, the New Zealand Institution of Professional Engineers are still investigating the complaint against Reay.