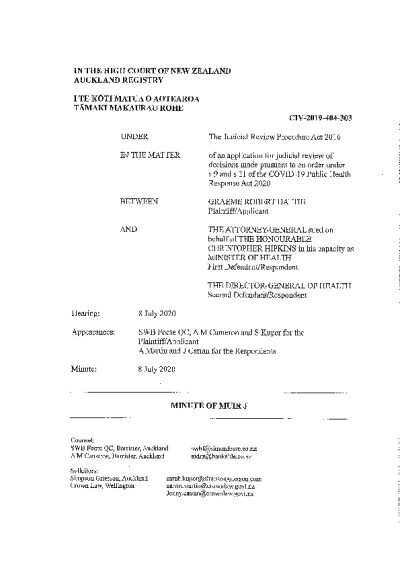 Description
This case law summary was developed as part of the Disaster Law Database (DISLAW) project, and is not an official record of the case.
Case Name
Graeme Robert Hattie v Attorney-General
Case Reference
CIV-2019-404-303
Name of Court
High Court of New Zealand
Key Facts
In response to Covid-19, the Government announced that anyone entering the country would be subject to compulsory managed isolation for a period of 14 days, or until they tested negative
Decision and Reasoning
Hattie's father passed away the night before the hearing. For this reason, the application for interim relief was withdrawn and the substantive proceedings were discontinued. However, the judge noted that, in his provisional view, the suspension of all compassionate leave from managed isolation (regardless of country of origin, test status, confidence in compliance conditions and other personal risk factors) appeared to be inconsistent with the proper exercise of discretion under clause 8(2) of the Covid-19 Public Health Response (Air Border) Order 2020. He reached the provisional conclusion that "any exceptional ground" does include compassionate grounds, so urged the Director-General of Health to readdress the suspension.

Outcome
The proceedings were discontinued.
Outcome:
The proceedings were discontinued.

Exceptional circumstances exemptions are now (as of June 2021) given for compassionate reasons such as visiting dying relatives; however, as admitted on the managed isolation website, they are rarely granted. To be granted such an exemption, there must be a very low public health risk and that risk must be able to be managed.