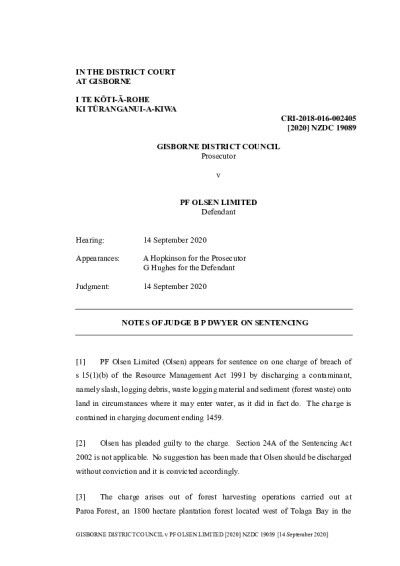 Description
This case law summary was developed as part of the Disaster Law Database (DISLAW) project, and is not an official record of the case.
Case Name
Gisborne District Council v PF Olsen Ltd
Case Reference
[2020] NZDC 19089
Name of Court
District Court of New Zealand
Key Facts
In June 2018, heavy rain caused a significant amount of forestry slash, logs, waste and sediment
Decision and Reasoning
The Court considered PF Olsen to have a high degree of culpability due to the inherent seriousness of the failure to comply with resource consents. They also noted that the substantial breaches of the conditions of their consent indicated poor forest management, demonstrated a disregard for the obligation to responsibly undertake harvesting operations and was a breach of common sense. The Court determined the starting point of the penalty to be NZ$200,000, roughly 33% of the maximum. They emphasised that this amount would have been much higher if Paroa's contribution to the debris at Tolaga Bay could have been quantified.

The penalty amount was uplifted by 10% due to PF Olsen's two previous convictions for Resource Management Act offending. The upper limit of uplift is suggested to be 33%, but was lowered given the lapse of time since the previous offence, similarity of offending, relative seriousness and number of offending incidents.

No discount was made for personal mitigating factors, however, a 10% discount for a last-minute guilty plea was awarded.


Outcome
PF Olsen was ordered to pay NZ$198,000, less 10% Crown deduction, to the Gisborne District Council.

Of the 10 companies charged in the aftermath of the Tolaga Bay flooding, only five related to damage in Tolaga Bay or its catchment area. This included the owner of Paroa Forest, Permanent Forests Ltd. Although the charge against them was withdrawn, Permanent Forests has paid the owners of Paroa Station NZ$388,000 for the damage they suffered.