« Back to search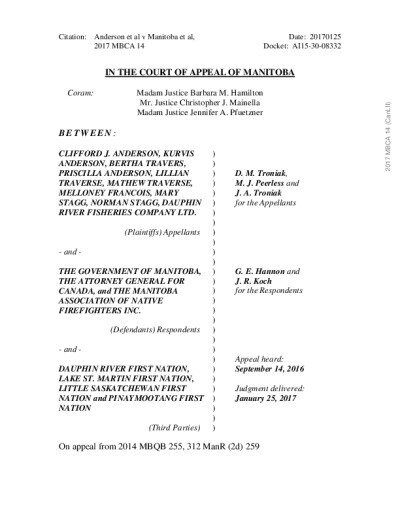 Description
This case law summary was developed as part of the Disaster Law Database (DISLAW) project and is not an official record of the case.
Case Name
Anderson et al. v. Manitoba et al
Case Reference
2017 MBCA 14
Name of Court
Manitoba Court of Appeal
Key Facts
In 2011, a devastating flood occurred in parts of Manitoba.
Decision and Reasoning
The plaintiffs sought and obtained leave to appeal on the questions of whether the certification judge applied the correct legal test to the question of a standard-issue concerning nuisance and, if not, whether that error affected his decision on the question of preferability. The plaintiffs succeeded in the appeal concerning both issues.

The Court of Appeal held that a class proceeding would be the preferable procedure for the fair and efficient resolution of the common issues. Therefore, the Court of Appeal allowed the appeal and ordered that the issues relating to nuisance, negligence, and breach of treaty rights be certified as a class proceeding. There was no order as to costs.


Outcome
At the time of writing, Manitoba has not sought leave to appeal to Canada's Supreme Court.