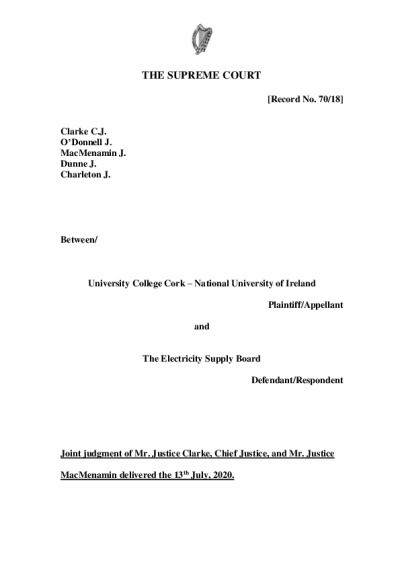 Description
This case law summary was developed as part of the Disaster Law Database (DISLAW) project, and is not an official record of the case.
Case Reference
[2020] IESC 38
Name of Court
Supreme Court of Ireland
Key Facts
Cork city suffered severe flooding on 19-20 November 2009 when the River Lee broke its banks following days of heavy rainfall, causing damage to many properties. The campus of University College Cork (UCC) was severely damaged as a result. As water levels
Decision and Reasoning
The central area of dispute between the parties concerned the extent or scope of a duty of care which the ESB could be said to owe to UCC.

UCC argued that it was foreseeable that any failure of the part of the ESB to manage the Lee Dams could lead to down-river flooding, and that the flooding downstream was proximate to any failure to manage the dams. ESB argued that at no time was the down flow greater than the inflow and that any wrongdoing amounted to what was an omission rather than a wrongful act. UCC sought to argue that the ESB could not be equated to the bystander who simply fails to act to prevent harm being done to a third party The Court referred to numerous New York jurisprudence starting with Iodice. It was held in the Appellate Division of the Supreme Court of the State of New York, held that there was no duty on the part of the state to regulate the outflow from a reservoir to minimise the flooding of lands downstream. Iodice was followed in Elliott v. City of New York (06 C.V. 296, 2010 U.S.Dist. LEXIS 121344.

Outcome
The Supreme Court found the ESB liable. Four of the five Supreme Court judges agreed, while O'Donnell J dissented.

The court held that the ESB exercised a very significant degree of control over the flow of water in the River Lee. The Court held that the duty of care arising in this case is best expressed as an obligation to assess, having regard to existing conditions and relevant forecasts, the likely range of possible outcomes for downstream land occupiers and to form a reasonable judgment as to how to manage the dams so as to minimise risk to those downstream occupiers. The control of ESB over the river is sufficient to give rise to a duty of care.

The court held that there was a sufficiently close degree of proximity between ESB and UCC as to give rise to a duty of care. It was foreseeable that the incorrect decisions made by ESB could have real consequences for UCC.

A decision on a subsequent cross-appeal on the issue of contributory negligence on the part of UCC remains pending at the time of writing.